Compare Prices:
• Amazon: Boss RC-1 Loop Station
• Newegg: Boss RC-1 Loop Station
Summary
• Pros: Stereo recording, simple operation, cool loop-length indicator.
• Cons: Only stores one loop at a time.
• Overall: An awesome choice if you want something simple. If you want more features like multiple memory slots and built-in drum-patterns, you will have to look elsewhere.
Full Review
For a while there, it seemed like Boss and Digitech were competing to make the most complicated looper on the planet. Stripped-down, simple-to-use looper pedals are becoming more common, however, with options like the Ditto, JamMan Express XT, Nano 360, and the Wally offering back-to-basics functionality. Boss isn't a complete stranger to this game, having released the RC-2 and RC-3 – which were stompbox-sized, but still had plenty of features. With the RC-1, Boss has ventured further into minimalist territory. But in this crowded market of back-to-basics loopers, does the RC-1 really stand out from the competition?
Straightforward Features
The big selling-point for the RC-1 is its user-friendliness, and on first looking at it most people would agree that it's about as basic as you can get for a looper. Measuring 5 and 1/8 inches front to back, 2 and 7/8 inches wide and standing at 2 and 3/8 inches tall, there's hardly even space for an array of dials and buttons. Boss has opted for just one pedal and one dial, to handle your looping functions and adjust your loop's volume level, respectively. For the core operation, its one tap to record, another to overdub and another to playback what you've recorded. To stop playback, you press the pedal twice, and to clear what you've recorded, you hold the pedal for two seconds or more.
There is also an undo/redo function, which works through the same pedal. This is an invaluable option when you're looping (unless your playing is always perfect), but it's yet to be confirmed how this operation will work in practice. It's likely to be that you have to stop playback before holding down the pedal to completely clear your recording, meaning that the same action during playback could be used for the undo/redo function. However, you can also buy an additional footswitch if you want easier access to the undo/redo and stop functions.
One of the most notable additions to the RC-1 is the "loop indicator," which consists of a ring of LED lights (24 in total) on the upper right of the pedal that give you some at-a-glance information about what's going on with your loop. Red lights only mean you're recording, red and green means overdubbing and green means playback. Once the RC-1 knows the length of your phrase (on the overdub and playback run-throughs), the indicator shows you how long is left in your loop, ticking down gradually so you can tell when you're approaching the restart part. This is a little gimmicky, but the effect is actually quite good – it's aesthetically pleasing and genuinely gives you useful information in a very intuitive format.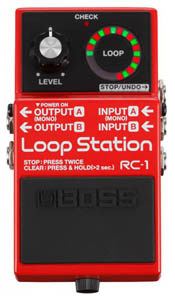 For memory, you have 12 minutes of stereo recording time. This is pretty good in comparison to the Ditto, for instance, which only offered five minutes, but absolutely pathetic when you look at Boss' most comparable recent looper, the RC-3. This had three hours of stereo recording time. Granted, you'd have to pay a little more to get one, but in this age of cheap data storage devices, it's hardly too much to ask to get a looper with more memory than you'd need. 12 minutes is still a lot of time when you consider the fact that you can have unlimited overdubs, but would it really have been that much more expensive to make it longer?
Probably not, but it would be fairly redundant as things stand. You have just one memory location in the RC-1, and that's not so much a separate storage space – it's just the last thing you recorded and didn't clear (although it does retain the memory after the pedal is switched off). With that in mind, 12 minutes will be more than you could ever realistically use, but it could have been so much better with just a few usable memory slots. The Electro Harmonix Nano 360 only has half the memory capacity, but it has 11 different memory locations.
The RC-1 has stereo 1/4 inch ins and outs, allowing you the core connectivity options you'll need as a guitarist in stereo format but allowing for little else. The only other jack on the unit is for the optional footswitch. You don't need tons of ins and outs for an entry-level looper, and the stereo option is a plus-point, but this is still a fairly limited offering. You can plug in a synthesizer or hook up two amps, say, if you actually want to, but you can't play along to audio from an auxiliary source, a much more in-demand feature you can get with the RC-3.
There is also a spot for a power supply, but you won't receive one when you order the RC-1. Instead, they're persisting with the ridiculous idea that anybody wants to keep a pedal powered up using batteries alone. One 9 volt alkaline battery gives you four and a half hours of use, according to Boss, but obviously this pales in comparison to the unlimited usage time you could get if they decided to provide a power supply.
Does it Really Stand Out?
The run-through of the features has been fairly critical, but it goes without saying that the RC-1 will have the same build and sound quality musicians have come to expect from Boss. Similarly, stripped down loopers like this are popular because they cut right to the core functions for players who are new to looping or who don't care about all the extra bells and whistles. It sets itself a pretty simple task, but it must be conceded that it seems to have accomplished it pretty well. You get everything you need plus stereo ins and outs and a cool display style.
When you stack up what it has to offer against other options, though, the positivity starts to unravel a little. Despite the smaller memory capacity, the Electro Harmonix Nano 360 has memory slots, a fundamental element of looper pedals lacking in the RC-1, which renders the 12 minutes of looping time necessary only for composers of the grandest prog-rock epics ever conceived. The most damning comparison is with Boss' own RC-3, though. It may be a little bit more expensive, but in addition to everything you get with the RC-1 (apart from the display), your memory capacity is increased by 15 times, you get 99 slots to store your loops, a USB connection, auxiliary input and rhythm backing, all in a stomp-box sized pedal.
We'll withhold some judgment until the RC-1 is released and we get to play around with the pedal itself, but it really seems like Boss is holding just a little bit too much back here. If you only want something simple to use in your bedroom or for the occasional jam session, then you won't be disappointed. Really, though, the pedal doesn't really have anything on offer for dedicated loopers, or – perhaps more importantly – much to offer new converts after the initial exploration into the world of looping with its core functions. When you get used to looping and you want to start storing your creations or jamming along to rhythm or backing tracks, will you still be happy you didn't spend the extra for an RC-3?
Conclusion
The RC-1 looks like a suitable looper for anybody just wanting something to mess around with at home, especially if it's your first time trying out a looper, but before you buy, think about whether you're likely to want something more in future. If you think you'll want to do more looping, it's worth looking at the slightly bigger, stompbox style models. They have more functions and larger capacities, and are still affordable. If you're just looking for an extra little toy to have fun with, the RC-1 looks great, but if you want to really get into looping, it seems best to look elsewhere.
Compare Prices
• Amazon: Boss RC-1 Loop Station
• Newegg: Boss RC-1 Loop Station
Boss RC-1 Loop Station Demo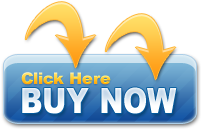 Boss RC-1 Loop Station Review
Peter
2017-04-29 00:43:19
For a while there, it seemed like Boss and Digitech were competing to make the most complicated looper on the planet. Stripped-down, simple-to-use looper pedals are becoming more common, however, with options like the Ditto, JamMan Express XT, Nano 360, and the Wally offering back-to-basics functionality. Boss isn't a complete stranger to this game, having released the RC-2 and RC-3 – which were stompbox-sized, but still had plenty of features. With the RC-1, Boss has ventured further into minimalist territory. Check Amazon Price…