Compare Prices:
• Amazon: Electro-Harmonix Nano Looper 360
• Newegg: Electro-Harmonix Nano Looper 360
Summary
• Pros: A very intuitive design, making for an easy-to-use looper with excellent sound quality. Offers 11 memory locations and six minutes of recording time, better than most comparable loopers.
• Cons: Suffers from many of the same issues as all small loopers: it lacks many useful features and has limited potential for live use.
• Overall: Another solid option for guitarists looking for straightforward looping functionality without all the bells and whistles of pricier pedals. You won't regret buying it, but you may find yourself eventually craving more features.
Full Review
Tiny loopers are all the rage these days, and after Electro-Harmonix's multi-track 2880 and 45000 offerings, they've decided to get a piece of the action too. The Nano Looper 360 is a tiny unit, immediately opening up comparisons with pedals like the Hotone Wally Looper, the JamMan Express and the TC Electronic Ditto. These pedals are primarily aimed at those who just want a basic looper to improve their jam sessions without paying the big bucks to get their hands on a larger, more feature-laden unit. However, does the simplicity work in its favor, or will you just be left wanting more?
Small Stature, Simple Operation
The main feature of the Electro-Harmonix Nano Looper 360 is its simple operation. The top half of the pedal is occupied by two dials, one of which controls your loop's volume level while the other selects the memory slot you're working in. The metallic footswitch on the bottom portion of the pedal operates the record/play/overdub functions (in that order, unlike some pedals, which put you in overdub mode before you listen back to what you've done), as well as handing all the other functions: stopping playback, clearing your loop, and undoing or redoing your last overdub. The basic operation is very straightforward, tap the switch to start recording (shown with a red "Record" LED), play your phrase, tap again to playback what you've done (shown by a green "Play" LED), and then give it a final tap to start overdubbing (shown by both red and green LEDs).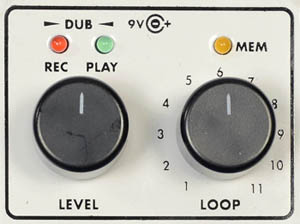 To stop playback, you give the pedal a double-tap, and when it's stopped you can erase everything you've recorded by holding the footswitch for two seconds (the small "Mem" LED flashes six times to confirm this). To undo the last overdub (or put it back) you hold the footswitch down for two or more seconds during playback (either of these operations is confirmed by the "Play" LED flashing twice). This is really useful if you make a mistake, but it also makes it possible to bring the top "layer" of your recording in or out at will, opening up many options for interesting compositions.
The 360 in the name refers to the number of seconds of recording time, allowing you six minutes of looping in total (with unlimited overdubs). The Boss RC-1 (soon to be released) packs double this recording time, but the 360 provides slightly more than you'll find on the Ditto or Ditto X2 (Ditto's big brother). The real bonus is that unlike the RC-1 and the Ditto, which only save one or two loops respectively, you get 11 memory locations. You loops save automatically (in whichever space the dedicated dial is set to), and you can see at a glance which locations are already occupied because the "Mem" LED will light up when it's set to an occupied location.
While splitting 360 seconds evenly across 11 locations would only give you around 33 seconds per loop, split up unevenly (with some longer, song section loops and some shorter repeating phrases) it allows for plenty of possibilities. If you spend a little more, you can buy a stompbox sized looper with tons more memory (in terms of both locations and capacity) than this, but among the class of mini-loopers, the Nano 360's offering isn't too bad at all.
Although the Nano Looper 360 can run on a 9V battery (for about four hours of looping), it comes with an AC adapter as standard. You might be expecting this, but other comparable loopers (like the RC-1 and the Express XT) don't come with a power supply, this is definitely a plus-point for Electro-Harmonix.
Electro-Harmonix also pays special attention to sound quality. The Nano Looper 360 promises uncompressed, 24-bit and 44.1 kHz sound, with no degradation in fidelity with multiple overdubs. On pedals like the the RC-1, the Ditto X2 and the Express XT, you get stereo ins and outs, but if you're just playing at home this is unlikely to be much of a big deal – more casual players will still be happy with mono audio.
Is it Worth the Purchase?
Despite the fact that Electro-Harmonix has accomplished a lot with a small amount of pedal-space, when you compare the Nano Looper 360 to all other loopers available it doesn't come out looking too good. As soon as you step up to stompbox size models, you get a hell of a lot more in terms of capability and functions. For example, many slightly larger units come with the ability to "quantize" your looping, or to ditch the jargon: the ability to correct any minor timing errors you make in your pedal presses and stretch or shrink your recording accordingly. This isn't absolutely needed, obviously, but it's one of the many nice additional features you can get if you spend just a little bit more. You may want to save money because you're just getting into looping, but for example, at the time of writing, you can pick up the much more capable JamMan Solo XT for about $20 more. Really, you aren't saving all that much by opting for the bare-bones option.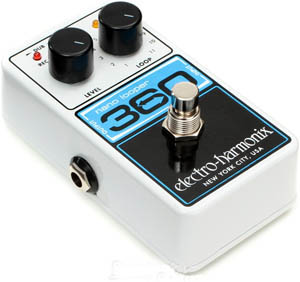 This line of criticism is a little broad, though, and although it's an important factor when you're choosing your looper, it's also worth taking a look at what the Nano Looper 360 has to offer in comparison to other similar pedals. If you opt for one of these tinier pedals, you could definitely do a lot worse than the Nano Looper 360. It accomplishes its goal very well indeed, making something that's easy to use, has great sound quality and offers some useful little extras like undo/redo functions. Other mini-style loopers allow undo/redoing, but the addition of the 11 memory slots sets it apart from the competition. Some allow for more time, but fewer slots, which doesn't make any sense unless you want to record a single loop that's a whole song's length. Bigger units offer many more features, but among the Nano Looper 360's direct competition it's a really good option.
Most of the Nano Looper 360's potential lies in its simplicity, sound quality, and potential for use as an at-home practicing companion. You could incorporate the odd loop into a live performance (a backing chord progression for a one-guitarist band while you play a solo, say) or a jam session, but if you're serious about loop-based performing, it's definitely worth getting something with more memory and a smoother method of switching between phrases. As it stands with the Nano Looper 360, changing between loops isn't a particularly seamless process, with obvious gaps between stopping one loop and starting another one. You can't queue a loop up to start when your current loop finishes, you have to stop, bend down and change the dial position before manually starting the new one up. You can have a lot of fun with a selection of stored chord progression loops at home, but you couldn't stitch together a song from a few different loops without notable gaps.
Conclusion
Among the direct competition, the Nano Looper 360 does a great job. The sound quality is excellent, it's easy to use and it offers you a reasonable amount of memory. This all makes it a very appealing option for new loopers, but if you think you'll want to continue looping it's really worth considering spending a little bit more to get a stompbox-sized option. They're still cheap, and have much more potential for long-term use. The Nano Looper 360 makes a great occasional addition to your arsenal of effects if you're not big on loopers, but for the looping enthusiast it may be a bit too simple.
Compare Prices
• Amazon: Electro-Harmonix Nano Looper 360
• Newegg: Electro-Harmonix Nano Looper 360
Electro-Harmonix Nano Looper 360 Demo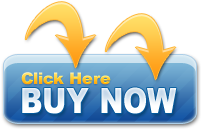 Electro-Harmonix Nano Looper 360 Review
Peter
2017-04-29 00:44:16
Tiny loopers are all the rage these days, and after Electro-Harmonix's multi-track 2880 and 45000 offerings, they've decided to get a piece of the action too. The Nano Looper 360 is a tiny unit, immediately opening up comparisons with pedals like the JamMan Express and the TC Electronic Ditto (and Ditto X2). These are primarily aimed at those new to looping, wanting something to improve their jam sessions or just have a bit of fun with without paying the big bucks to get their hands on a larger, more feature-laden unit. However, does the simplicity work in its favor, or will you just be left wanting more? Check Amazon Price…