• Amazon: Boss RC-50 Loop Station
• Reverb: Boss RC-50 Loop Station
Summary
• Pros: Extensive frustration-saving features, possibilities for monumental stacked sound, multiple import/export ports and seven pedals for remote access.
• Cons: Minor delays on first playback and when phrase switching, Loop Quantize feature changes pitch of original recording, doesn't work well with external MIDI clocks.
• Overall: A top-quality loop pedal, with some minor glitches which pale in comparison to the tremendous amount that it can do.
Full Review
Boss has been on the cutting edge of looping technology for some time now. After raising the bar with the RC-20XL, they attempted to build the holy grail of looper pedals with the RC-50 Loop Station. You should note, however, that Boss has since released RC-300 Loop Station, which is the newer version of the RC-50.
The RC-50 is certainly a monstrous pedal. In fact, it's basically a pedal board unto itself. It weighs in at around 6 pounds, and is almost 19 inches wide. The unit has 7 footswitches, and allows you to simultaneously play up to 3 stereo tracks. The possibilities swell to epic proportions when you realize that each of these tracks can also contain multiple overdubs. The RC-50 can record any instrument, including the human voice, and has a vast array of input and output ports to facilitate fits of wild experimentation.
Memory
The RC-50's onboard memory is impressive, giving you 24 minutes of stereo recording and 49 minutes in mono. This may not seem like a lot in terms of computer hard-drive capacity, but for a pedal, it's massive. You can also connect to your computer via the USB port to import and export data, which means you can also store your loop library externally.
Play Modes
The RC-50 has two play modes, single-play and multi-play. These are somewhat self explanatory. Single-play allows you to play one of your stored phrases at a time, and multi-play allows you to play multiple phrases at the same time. Single-play is relatively straightforward – you record up to three parts, each one overdubbed to your heart's content, then play them one at a time. The parts each have their own pedal, so switching between them is easy, even when performing. The three phrases are collectively referred to as a "patch."
Multi-play mode is more intriguing. By allowing phrases to be played on top of each other, you can create more densely layered sound. This is useful in many ways. For example, if you have a rhythm section saved as Phrase 1, you can then record a melody as Phrase 2 and play the two together while still soloing or adding new layers. When you want to break the song down to just the rhythm again, you tap a pedal to stop the melody. You can tap the pedal again to bring the melody back at any point in the song. If that isn't enough, you can even overdub the melody, adding layers upon layers of sound.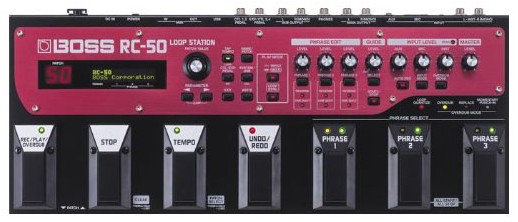 Drum Patterns
One of the best features of the RC-50 is "The Guide," which is like an amped-up metronome, complete with drum beats in a variety of different time signatures and styles. After all, you can't leave out the people who want to play in 13/8! The drum beats are good, especially for something to jam along with while practicing. Of course, if you want to be creative without using the The Guide, you can keep it turned off and just work with your own sounds.
Timing and Quantization
Timing is always an issue with looping, as to overdub successfully you have to stop the recording exactly on beat, otherwise the things you play won't sync up. The RC-50 has a "Loop Quantize" feature so that when you're busy jamming with The Guide and miss the beat by a second, its automatically corrected. Loop Quantize stretches or shrinks the overdub to keep the timing perfect. The only problem with this is that the pitch does change. If you're close enough, you won't notice it at all, but there is still a risk of suffering a slight change if you come in really early or late.
The Boss-men have more up their sleeve, though. Tempo-sync works on any patch (Guide or none), and allows you to set a tempo and have all of the your patches altered to fit your selection. Alternatively, you can tap out your tempo using the "Tempo" pedal, or allow the RC-50 to calculate the tempo itself. Yep, it's that clever. It's very useful in those all too frequent cases where you're a little off, though it can be a hindrance if want to use different tempos. All this is accomplished without altering the original pitch.
Another benefit of the RC-50 is the ability to queue phrases in single-play mode. Ordinarily, you would have to tap your foot precisely when you wanted the next section to play, but the RC-50 has "One Shot" mode, where the phrases play once, and you queue the next phrase up to take over as soon as the preceding one ends. Along with this comes the ability to play phrases in reverse, set the looping to stop at the end of the phrase, or to fade out.
Stacked up in such a way, the RC-50's features seem overwhelming, and it the pedal may not be well-suited to those who are not familiar with technology in general. The sheer amount of functionality on the unit could certainly confuse a newbie who just wants to solo over a basic 12-bar blues. On the other hand, an amateur won't outgrow the RC-50 any time soon.
Accessibility
The basic layout of the RC-50 is straightforward, and if a beginner was content to spend some time reading the manual, basic navigation wouldn't be a problem. Three of the seven pedals are used to select a phrase, and the other four have simplistic purposes. One is the ever-important (and oh so worn) "Record/Play/Overdub" pedal. This is used simply to begin recording, and then again to end the loop. The loop restarts and you're free to start overdubbing as you please.
Another of the pedals is the vital "Undo/Redo" switch, which stops your mistakes from being recorded, only to come back and haunt you by playing through your amp in their mangled ghostly forms. That's right, Boss has crammed so many features on the RC-50 that they even have measures in place to stop metaphorical ghosts from bothering you. They really do think of everything. When you hit the pedal, the loop just restarts and lets you go for it again. This is particularly useful if you flub a note at a gig, as it will be forgotten in seconds.
The other two pedals are the "Tempo" pedal, which I mentioned earlier, and the "Stop" pedal. But for all the pedals on the RC-50, additional pedals are arguably still needed for live performances. If you wanted to incorporate reversing phrases, remote starting and stopping of the guide, or start all three phrases simultaneously, you would have to dig down in your wallet and buy additional pedal controllers, unless of course you have extra hands.
Also, despite all the RC-50's high-end gadgetry, there is still a slight delay on the very first loop of a new patch. Boss's solution was to release a new version of the system, with the option to switch to "Rhythm Priority" mode, which corrects this change, but eliminates some of the better features, such as the Tempo-sync, leaving you on your own to time your taps perfectly.
These delays also crop up when switching phrases, and in live performances can throw the song off-time. Along with this, if during a performance you clip the input jack, or become over-zealous and play too loudly, it can cause the sound to cut out completely for a second, before creeping back up to normal volume.
The RC-50 is also supposed to sync up to external MIDI clocks so you can jam in time with others, but there have been numerous reports of this not working correctly, and this has sparked many angry comments online from people who bought the pedal for that reason.
Comments like this are understandable, but in reality criticizing the RC-50 in this way is like trying to knock down the Great Wall of China with a single brick. There is so much that it can do that a few glitches and errors mean relatively nothing in comparison.
Conclusion
Overall, the Boss RC-50 Loop Station is a fantastic piece of equipment, with an extensive range of features and an easy-to-use pedal board. The sound it captures is CD quality, and although the memory is relatively small, if you plan to use a lot of pre-recorded material, it is still ahead of a lot of the competition, and the ability to save patches externally is a partial remedy to this problem. There will always be errors with machinery, and I, for one, hope that the imperfect looping pedals of the future take up the many great features on the RC-50. It's a pleasure to play, and truly has the power to rekindle your love of the guitar, and your love of making music.
Boss RC-50 Demo Video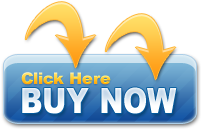 Boss RC-50 Loop Station Review
Peter
2015-06-11 10:44:21
Boss has been on the cutting edge of looping technology for some time now. After raising the bar with the RC-20XL, they attempted to build the holy grail of looper pedals with the RC-50 Loop Station. But is the RC-50 really the holy grail, or did they miss the mark? For some basic info on looping, click here. Check Amazon Price…