• Amazon: Akai E2 Headrush
Summary
• Pros: The Akai E2 Headrush has a user friendly interface. The dual footswitch makes it hands-free to use.
• Cons: No quantize option available. No memory storage.
• Overall: The Akai E2 Headrush is a relatively inexpensive, easy to use, and robust looper that works well for both live performances and home use, but also lacks many of the bells and whistles of other loopers available today.
Full Review
The Akai E2 Headrush Delay/Looper pedal promised to take off where it's fairly successful predecessor (the E1) had left off. With the Akai E2 Headrush, musicians were promised better headroom, more looping time and a solution to the noise problems with the E1. Akai delivered on its promises, but the looper is still fairly simplistic compared to other options. In some cases, this could be an advantage, however. For example, the E2 Headrush is fairly easy to use straight out of the box. It features the following three play modes:
Looping Recorder Mode:
In this mode, the Akai E2 Headrush lets you play and record a phrase that can be played back as a loop immediately. There is unlimited overdub so you can practice or perform endlessly. Overdubs and loops can be stretched by an extra 10 seconds in the Extend mode. You might be disappointed if you are looking to record entire verse and chorus parts because you will get just about 24 seconds at 44.1KHz and can stretch this to 35 seconds at a lower sampling rate (Extend) of 29.4Khz. If you want to overdub then you instantly cut these numbers into half, so you are looking at 11.9 to 17.8 seconds. But this is more than enough for live performances and can be eight bars or longer depending on the tempo of your song.
Simply put, this isn't the Boss RC-300 Loop Station, so you can't loop different parts of an entire song. However, what you can do is use the Akai E2 Headrush intelligently to play backing tracks for parts of your songs in a live performance…among other things.
Even with no previous looping experience, you can use the E2 Headrush right out of the box. The user manual isn't as helpful as you would expect it to be so you will have to discover some of the features for yourself. Luckily there are tons of videos on YouTube that give through demonstrations of the Headrush's looping capabilities.
Significantly, because there is no quantize option, you will need spot-on timing to be able to use this effectively (as is the case with any looper pedal). Also, there is no memory storage so you won't be able to save anything after you're done jamming. Some might say that's a very Zen feature, but if you want to save your loops, we recommend you check out some of the other loopers on this site.
The biggest problem we encountered while testing the E2 Headrush was that there is a volume issue with each layer you add. In other words, you cannot adjust the individual input level for each layer that you loop. This can cause a jumbled up sound because all the layers don't always sit well together. One possible solution to this, unless you are playing something that cuts right through, is to use tonal variation via your pickup switches to solve the mix issue.
Normal Delay Mode:
Once in delay mode, you can use the right foot switch to tap the time (tempo tap). After you nail the delay time, you can adjust the wet/dry quotient of the delay. It works well depending on how much you plan to use this. I do feel that there should have been an option of Reverse Delay, which would have made this even better. The delay doesn't sound 'digital' and has the warmth required. When used with an electro-acoustic guitar, it sounded natural and plush (and guess what? There was none of the crackle or hiss either).
Noticeably, there aren't a lot of delay effects to choose from on the Headrush. The other downside (which is a common problem) is that you CAN'T use Delay and Looping at the same time. If that is something you are interested in experimenting with, your best option is really the Digitech Jamman Delay.
Tape Echo Mode:
The Akai E2 Headrush promises a classic analog sound when you switch to Tape Echo Mode. You can get some good sound by working the HF Damp knob (High Frequency adjustment) once you're in Tape Echo Mode. The sound, however, is a little too muffled. The four inputs are useful if you have that sort of gear and amps to lug around, otherwise it' a bit of an obsolete feature for most users.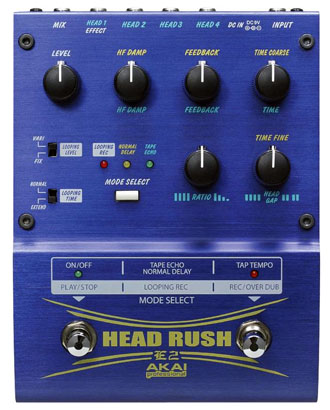 A Few Considerations
Sound: Noise, especially a hissing sound, was the nemesis of the Akai E1 pedal. Even with the Akai E2 Headrush, there have been a lot of complaints regarding a hiss and/or a buzz. Simply put, most of these seem exaggerated. Noise problems if any, may be due to something in the pedal chain being overlooked or perhaps something as simple as too much gain. That being said, this pedal is not the quietest out their either. There is nothing 'digital' about the sounds created. This delay is natural and rich. It works great for live and if you know your equipment well, there shouldn't be any problem with noise. Out of the three modes, this unit works seems to work best as a looper.
Features: The E2 offers a good share of options while still maintaining a not-so-complicated user interface. Almost everything is accessible using the two foot switches. You can switch between the three modes (Tape Echo, Normal Delay & Looper) by pressing down simultaneous on both. An LED light flashes to indicate the tempo/speed of the delay or loop and another indicates which effect is currently in use. The right foot switch can be stomped on twice on the beat to set the tap tempo in the Delay mode. So basically you can do things without having to stop playing, including switching modes and changing delay tempo. It is packed with good features for the price.
Construction/Build/Quality: The footswitches on the Akai E2 Headrush are sturdy and the general build of the pedal is solid due to the dicast metal body. The two foot switches are far apart to ensure that there are no accidents. The feel is rugged and study and it seems like it could last for quite a few years without causing any trouble. The biggest letdown is that there is no battery compartment and you have to power it through an adapter only.
Ease of Use: Spend 10 minutes reading the user manual, spend an hour or two fiddling with it and you should be in control of the E2 Headrush. At the most, give it a week you and will be able to milk it to get the most out of it. Frankly, this pedal gets a bonus point for being so friendly and easy to use. If you have a good sense of timing, you can get a hang of this very quickly.
Artists who use the Akai Headrush:
Mike Sullivan, KT Tunstall, Mike Doughty, Radiohead and others.
Akai E2 Headrush Demo Video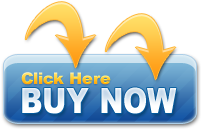 Akai E2 Headrush Review
Peter
2015-06-11 10:12:50
The Akai E2 Headrush Delay/Looper pedal promised to take off where it's fairly successful predecessor (E1) had left. With the E2 Headrush, users were promised better headroom, more looping time and a solution to the noise problems with the E1. The result is a relatively inexpensive and robust looper that works well for both live performances and home use, but also lacks many of the bells and whistles of the newer loopers on the market today. Check Amazon Price…