Digitech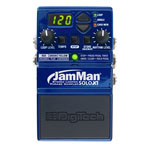 Digitech's JamMan range is legendary in the world of loopers, with the gargantuan Delay being one of the most feature-heavy options on the market. The Solo XT builds on the ground-work laid by the Solo, offering the features and functionality you expect from the JamMan series in a small, stompbox like package.
---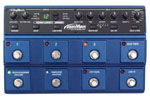 DigiTech has combined the best of both worlds in the new JamMan Delay Looper. The JamMan Delay Looper features both true stereo looping and a fully programmable stereo delay with powerful control over both effects. The Looper in the JamMan Delay Looper ffers true stereo looping with 35 minutes of built-in memory, 99 internal loop memories, and an SD card expansion slot for an additional 99 loops and over 16 hours of stereo loop storage.
---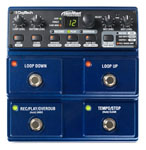 After amazing success with the original JamMan, Digitech improved upon it and unleashed three brand new loopers: the Jamman Solo, the Jamman Stereo (reviewed here), and the Jamman Delay. The JamMan Stereo is the mid-sized version, the one Goldilocks would have chosen. The question is whether being in the middle really does make it 'juuust right.'
---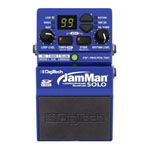 The JamMan Solo seems to be Digitech's challenge to the Boss RC-2 Loop Station, the smallest of Boss's looper pedals. The JamMan Solo is the compact, inexpensive sibling of DigiTech's larger JamMan Stereo and JamMan Delay/Looper. The challenge faced by manufacturers producing compact pedals like this is maintaining the same or at least a similar level of functionality offered by the larger models.
---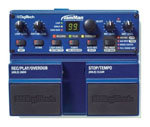 Right off the bat, you may have noticed the similarity in look between the JamMan and Boss's RC-20XL. You are certainly not alone. The RC-20XL came out in August 2004, and the JamMan a year later, to the month. This leads to a lot of competition between the two pedals, and they are in many ways easily comparable. DigiTech has since released a couple of new pedals, the JamMan Solo and the JamMan Stereo, but then again, so has Boss.
---